what's coming next?
We have a number of exciting projects in the pipeline…
tyrannosaur inside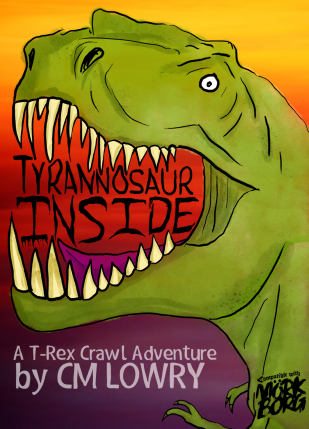 A Monstrous Quest Inside A Giant T-Rex by CM Lowry.
An upcoming Role Play Game adventure featuring far too many T-Rexs and the opportunity to get to know your Tyrannosaur self better.
Is currently live on Kickstarter and Itch.io for crowd-funding!
Kickstarter link:
Itch.io link:
isbn coffee
Coffee! Love it? Hate it? Vague sense of nonchalance about it? If so, we want you!
Beyond Cataclysm is undertaking an new project: We are going to make world's first Coffee with its own ISBN number! A lovely bag of specially chosen Cuban Serrano Coffee with an accompanying book. ISBN Coffee!
We are looking for written submissions – anything you like really – a story about the awful hogwash you're nan used to give you when you asked for a coffee, an account of that time you visited Damascus and got you're first taste of a true Arabian brew, a diatribe on how much you hate the damn stuff – so that we can put together a fun book to accompany our select blend from Dick's Bean Bar. Poetry, Microfiction, Recipes, RPGs – anything!
Interested? Drop us a line on via the contact page.